Evangelicals Incorporated:
Books and the Business of Religion in America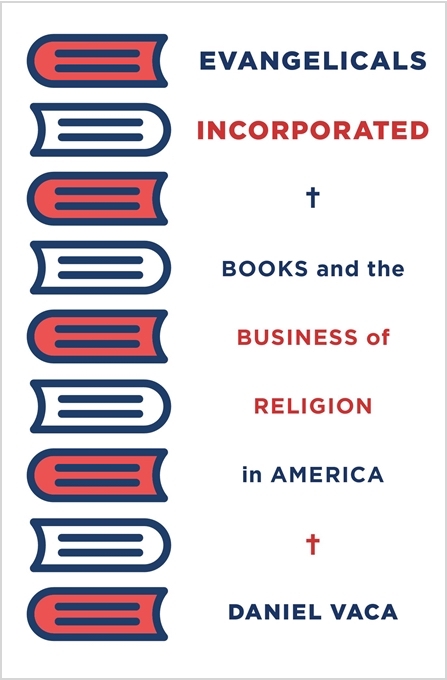 American evangelicalism is big business. Long before evangelical Christians became known as a powerful political constituency, they were a profitable consumer constituency. For decades, the world's largest media conglomerates have sought out evangelical consumers, and evangelical books regularly have become international best sellers. In the early 2000s, Rick Warren's The Purpose Driven Life spent ninety weeks on the New York Times Best Sellers list and sold more than thirty million copies. But why have evangelicals achieved such remarkable commercial success?
In Evangelicals Incorporated, Daniel Vaca argues that evangelicalism depends upon commercialism. Tracing the once-humble evangelical book industry's emergence as a lucrative center of the U.S. book trade, Vaca argues that evangelical Christianity became religiously and politically prominent through business activity. Through areas of commerce such as branding, retailing, marketing, and finance, for-profit media companies have capitalized on the expansive potential of evangelicalism for more than a century. Yet by focusing commercial attention primarily on white, middle-class consumers, evangelical businesses also have nurtured evangelical identities premised more on politics of race, gender, and class than on particular theological imperatives. 
Rather than treat evangelicalism as a type of conservative Protestantism that market forces have commodified and corrupted, Vaca argues that evangelicalism is an expressly commercial religion. Although religious traditions seem to incorporate people who embrace distinct theological ideas and beliefs, members of contemporary consumer society often participate in religious cultures by engaging commercial products and corporations. By examining the history of companies and corporate conglomerates that have produced and distributed best-selling religious books, bibles, and more, Evangelicals Incorporated only illustrates how evangelical ideas, identities, and alliances have developed through commercial activity but also reveals how the production of evangelical identity became a component of modern capitalism.
This description is drawn from the book's page on Harvard University Press's site, where more information about the book is available.
"Evangelicals Incorporated uncovers a new archive for the history of religion in the United States: the flourishing for-profit business of evangelical publishing. From suburban Christian strip-mall bookstores to powerful New York publishing houses, evangelical booksellers frame commercial consumption as a form of religious practice. In this sophisticated, well-researched, and compelling monograph, Daniel Vaca argues that the movement we refer to as evangelical Christianity is thoroughly enmeshed with consumer culture. For-profit Christian media companies have not corrupted some imagined Protestant purity; rather, they are essential to its expression as a religion that relies on consumer engagement to develop religious ideas and identities. As we make sense of the deep rifts and strange bedfellows of American politics, we can glean from Vaca's book an essential contribution to understanding evangelicalism in ways that test the limits of what constitutes a literary field." — Citation for the MLA's 2020 Matei Calinescu Prize, honorable mention.
"This is the book I've been waiting for. Vaca has penned a must-read account of how evangelicals built and sanctified their commercial world and, in doing so, made the modern religious marketplace. This book demands that we reckon with an American God worshipped in word and deed, and dollars and cents." — Kate Bowler, author of The Preacher's Wife: The Precarious Power of Evangelical Women Celebrities and Blessed.
"Deftly combining historical depth and sweep with theoretical sophistication, and rooted in extensive archival work—including archives that have never before, to my knowledge, been mined for work in U.S. religious history—Evangelicals Incorporated advances our historical understanding of a critical arena of American religious life, the evangelical book business in the age of mass culture, with greater depth and scope than any other work." — Matthew Hedstrom, author of The Rise of Liberal Religion: Book Culture and American Spirituality in the Twentieth Century
"This fascinating study will be of interest to scholars of capitalism and religion. It makes critical contributions to both fields while also being written in a compelling style that will make it accessible to nonspecialists. The book's detailed research and significant analytical contributions make it a must-read for anyone interested in American religious history, book history, or the relationship between commerce and group identity." — Emily Suzanne Johnson, author of This Is Our Message: Women's Leadership in the New Christian Right.
"With Evangelicals Incorporated, Vaca has written the book that should make students of American economy finally account for the evangelical strategies that define commercial success. It will define the study of evangelicalism for the next generation of scholars. This is history as critique, and we need it now." — Kathryn Lofton, author of Consuming Religion and Oprah: The Gospel of an Icon.
"For too long American evangelicalism has been regarded as a subculture defined principally by common beliefs. Evangelicals Incorporated challenges that view, demonstrating the central role that Christian publishing houses have played for more than a century in creating an evangelical niche market. The stories behind the scenes that Danial Vaca has uncovered are absolutely fascinating." — Robert Wuthnow, author of The Left Behind: Decline and Rage in Rural America and The Restructuring of American Religion.
"Evangelicals Incorporated is an exemplary work of interdisciplinary scholarship. Vaca's approach reflects not only his dexterity with historical and ethnographic methodologies but also his ability to weave together theoretical insights drawn from a variety of different fields, including religious studies, American history, whiteness studies, the history of the book, the history of capitalism, and more. What emerges as a result is a provocative and compelling reinterpretation of evangelicalism in the modern United States with which scholars and general readers alike will be wrestling for a long time to come." — Heath W. Carter, author of Union Made: Working People and the Rise of Social Christianity in Chicago.
◦  Introduction
◦  1. Finding Profit: The Ascendance of Commercialism
◦  2. Brands of Distinction: Creating Value through the Fundamentalist Network
◦  3. Trade Associating: Evangelical Allegiance in the Mass Market
◦  4. Righteous Retail: Women, Family, and the Social Power of Selling
◦  5. Financial Faith: Corporate Finance and the Sacred Tradition of Growth
◦  6. The Spirit of Market Segmentation: Making Something for Everyone
◦  Epilogue
◦  Abbreviations in Notes
◦  Notes
◦  Acknowledgments
◦  Index